Miss Thuzar Wint Lwin cu tuni ah US ram Chinmi tambiknak Indianapolis khua a phan i Chin Community of Indiana (CCI), Indy Nubu le mino hna nih Laithil i hruk in pangpar he sunglawi taktak in airport ah an don.
Myanmar ram aiawh in US ah Miss Universe aa zuammi Thuzar Wint Lwin cu Miss Universe tuahmi 'Ram Thilthuam Ṭhabik (Best National Costume)' zuamnak ah Laithil bakin pakhatnak a ngah caah 'vawleipi hmai ah Laithil cawisangtu asi' tiin vanrang tang Chinmi vialte kan i lawm dih. Miss Universe zongah Top 21 ah aa tel kho ve.
Candy Thuzar ti zongin auhmi kum 22 ngaknu dawh cu Myanmar ram aiawh in ramdang ah Miss Universe aa zuam ding thimnak 'Miss Universe Myanmar 2020' tuah lio ah Hakha khua aiawh in aa rak zuam i pakhatnak a ngahmi si. Amah cu Chinmi asi lo, Yangon chuak Kawl asi. Hakha aiawh in aa zuammi Chinmi an um lo caah asi.
Indianapolis Chin mipi he tonnak a ngei lai
May 25 zaan 6pm in 9pm tiang Indianapolis khuapi um CEBC CLC ah Thuzar le mipi tonnak an tuah lai. Tonnak an tuah lio cu zapi hmuh dingin Facebook ah live an thlah lai.
Luh man $20 si lai. Hmasa ahcun $50 an ti nain 'a tam deuh' timi an um caah $20 ah an ṭhumh.
Miss Universe Myanmar 2020 hmanthlak pi na duh cun sian tawk laksawng pek hnu ah thlakpi khawh asi lai.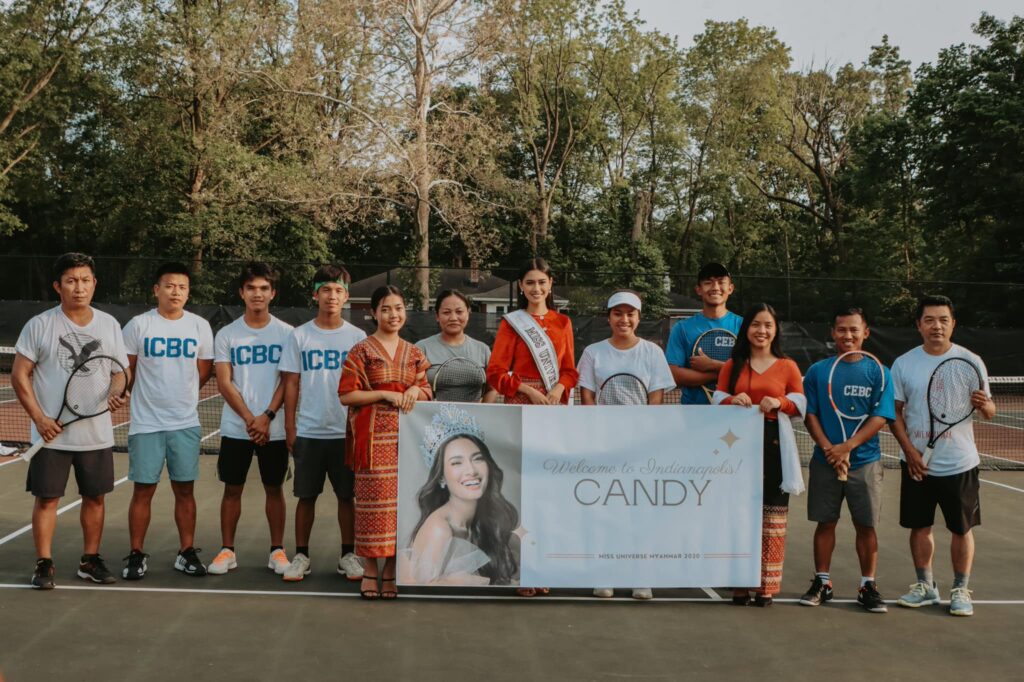 Miss Universe Myanmar 2020 Thuzar Wint Lwin biahal nan duhmi paoh mah hi hmet law ṭial ulaw May 25 (Nihnihni) ah hmai tonh in an leh te hna lai.
Ramkhel kong cu hal lo dingin kan in nawl hna.
Thuzar cu US tadinca minthang bik a si vemi The New York Times nih interview a tuah lio ah le Miss Universe aa zuam lio ah ralkap nih mipi an thahmi hna a duh lonak kong a chim i ramdang zong bawmh a hal hna caah atu hi Myanmar a kir ngam rih lo. Ralkap duh lonak a langhtermi minta Paing Takhon, Pyi Ti Oo, tbk tampi thong an thlak cang hna.